old59porsche wrote:

Dan, I can't see you shopping at H.F.

Actually I used to have a deal with a local Importer of machine tools from Israel and possibly other places. they had cheap stuff which was still better than the Enco, a inexpensive machine tool supply online, which was much better than Harbor freight.
I had done some stuff for them in exchange for what I needed. Beyond that I paid dealer price.
They are long gone and I cannot believe the cost of some machine tooling now!
I think the 30 year old transfer punch set I have cost 7 bucks back then. They have been used and abused and still function fine.
The HF punch set was the first to pop up in a search. You could probably modify them to make limited use punches. Good ones from say MSC will be hardened and will last forever.
I would never use anything from HF unless like said, as disposable or experimental.
Harbor freight has metal and plastic ammo cans. Observation is that the seals are garbage and I would not use for long term ammo or other storage items where I am concerned about moisture getting in.
When they were on sale stupid cheap I bought some plastic ones for like 2 bucks each. I do not know the drop factor but would not trust it.
I did however get some for my daughter who puts her art supplies in them. One I may use to "pot" a high voltage power supply
USGI would have a specification so all would be very similar semi tubular rivets. A decent hardware store may have them.
A correct rivet setting tool would have a anvil the shape of the head. I used a punch as an anvil as I did not care if it flattened the head. The "set" or "flair" tool would be shaped similar to the transfer punch. I know of two profiles for the set punch. One smooth to curl the opened end. The other has a hex pattern to it to split the rivet and fold the hollow parts in segments.
I bet there are many others as well.
If yo have a Michales or Joann fabrics you may find cheap hand set tools there, though they may be too big for a HG.
Online I bet there are hundreds of pictures online. Here is a set at MSC for $376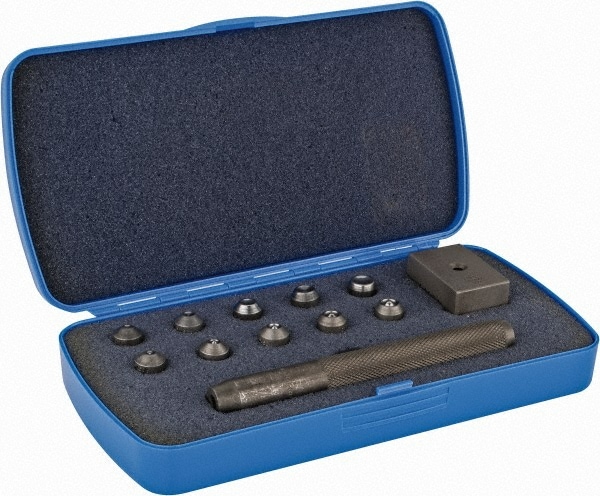 I have used a transfer punch on solid rivets. The thought being the the punch part would better stretch it for surface area. However this would compromise a rivet if it had a "load" to hold